welcome to Las Clinicas del Norte!
Las Clinicas del Norte (LCDN) is a federally designated Frontier Community Health Center, and provides services to the approximately 14,720 residents of its service area, covering 2,500 square miles in parts of Rio Arriba and Taos Counties, both of which have been designated Medically Underserved Areas (MUAs). The LCDN service area is a frontier region, with low population density (4.2 persons/square mile), with widely scattered villages and small towns. Las Clinicas del Norte is the only provider of primary care, oral health care, and behavioral health services in its service area. The area is extremely rural and mountainous, with winters that sometimes make travel hazardous.
Our vision is to provide culturally competent care to the underserved and medically indigent patients in a remote part of northern New Mexico. LCDN operates three clinic sites, in El Rito, Abiquiu, and Ojo Caliente, all strategically located to provide maximum access to the area's rural residents. LCDN also operates school-based health centers in Abiquiu, 2 in the Mesa Vista School District at El Rito and near Ojo Caliente, and in Pojoaque, NM, a rural community 20 miles north of Santa Fe, adjacent to Pojoaque Pueblo.
about us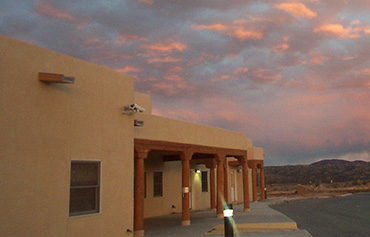 Mission Statement
Las Clinicas Del Norte exists to promote healthy communities with a proactive approach to individual and community health. Our focus shall be to provide comprehensive preventative and primary health care services that are accessible, affordable, culturally sensitive and compassionate.
You can send suggestions or complaints to our Chief Operations Officer, Brandi Darby, at Brandi@lcdn.org
our history
Las Clinicas del Norte (LCDN) was established. It was first known as the El Rito Betterment Association.
LCDN opened its first clinic in El Rito in June 1973.
A new clinic location is opened in Ojo Caliente.
The Abiquiu clinic location is opened.
El Rito Betterment Association name was changed to Las Clinicas del Norte.
New expanded El Rito clinic is opened.
Our first school based clinic is opened at Mesa Vista High School.
The second school based clinic is opened at Pojoaque Valley High School and the Ojo Caliente clinic moves to a new building next to the post office.
The Abiquiu clinic moves to a new building by the Abiquiu Inn.
job openings
Las Clinicas del Norte (LCDN), invites licensed Dentists to apply for two positions at our El Rito Clinic. LCDN is a qualified a Federally Designated Frontier Community Health Center/Medically Underserved Area allowing providers to access both state and federal loan repayment programs.
Las Clinicas Del Norte is accepting applications for Dental Assistant position(s) to work at all LCDN Dental Clinic in El Rito. Candidate must be able to work independently, have good organizational, communication and computer skills. Must have knowledge of good dental care, methods of sterilization, maintenance of simple records, routine office procedures, and of safety and sanitary precautions; ability to prepare instruments and equipment sterilization and safety; to anticipate routine problems and to take effective action; to follow orders and established procedures explicitly; and to schedule time efficiently. Radiology, Pit & Fissure Sealant Coronal Polishing; and Topical Fluoride certifications preferred. Bilingual preferred. Competitive pay and fringe benefits.
Las Clinicas Del Norte (LCDN), is accepting applications for a PHARMACY TECHNICIAN to work at out Abiquiu Clinic. Candidate must be able to work independently, have good organizational, communication, and computer skills. The Pharmacy Technician's job purpose will require candidate be responsible for assisting the consultant pharmacist and medical staff in the provision of save and cost effective pharmaceutical services primarily for the Abiquiu Clinic site. Will provide pharmacy support to assure that quality pharmacy services are provided in accordance with regulatory requirements and LDCN Pharmacy Policies and Procedures.
Employment Application Form
Fax resume and employment application to HR Dept. (575) 581-0030 or email to HR@lcdn.org
Dentist Opening
Daily Responsibilities
Intake, diagnose, evaluate, develop treatment plan, and monitor progress for patients
Enforce rules, regulations and legal requirements with patients and document treatment plans
Promote organization
Work hours: Four (10) hour work days
Qualifications
Doctor of Dental Surgery or Doctor of Dental Medicine Degree
Licensed to practice dentistry in New Mexico
Ability to work in/with a multi-cultural population
Demonstrate competence in preparing client documentation in accordance with generally accepted clinical standards
Bilingual preferred
Background and reference checks required
Benefits
403b Retirement program employer matching contribution up to 7%
Medical, Dental, Vision, Life, Short Term Disability Insurance
Annual, Sick, Personal Leave
Paid Holidays (10)
CME Tuition Support and Leave
Mal-Practice Insurance by FTCA coverage upon hiring